Do you currently work in a field in which knowledge of GIS is essential?

Are you currently enrolled in a related Master's or PhD program and want to develop specialized expertise in GIS to complement your work in such other disciplines as natural and social sciences, engineering, public policy, and education?

Are you looking to develop competency in ArcGIS, the market-leading GIS software—or have some experience in GIS, but need to brush up on your skills?

Do you have an interest in developing proficiency in GIS software, but don't want to commit to a full Master's degree?

Are you looking to transition from your current career into the Geographic Information Science field?
If you answer yes to any of these questions—and have a minimum of a Bachelor's degree—this program may be just what you are looking for. You can apply for the entire four program, or just take one or two courses to start as a Non-Degree student. You can also apply your certificate credits to a full Master's or PhD degree within the UConn Department of Geography.
Job Titles
GIS is used widely in business, government, education, transportation, urban planning, among other industries, for decision making, strategic planning, environmental management, marketing, retail sales and distribution, location analysis, urban and regional planning, infrastructure management, census-based demographic analysis, redistricting of political jurisdictions, and much more. A sampling of job titles includes: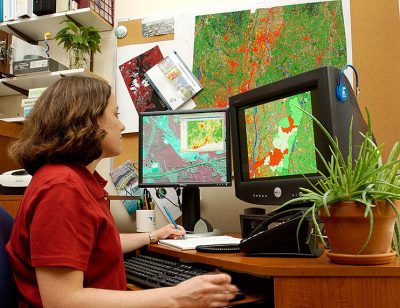 Market Research Analyst

GIS Analyst

Urban Planner

Transportation Planner

Land Use Planner

Natural Resource Manager

Resource Specialist

Cartographer

Logistics Specialist